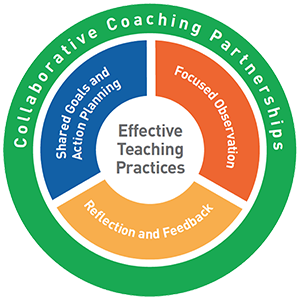 The Coaching Project promotes engagement in continuous quality improvement to facilitate best practices in Preschool for All classrooms throughout the state. Through onsite visits, ongoing communication, reflection and embedded professional development, the Coaching Project supports teachers and programs in attaining the highest level of quality education to children and service for their family members.
Programs participating in the Coaching Project are recommended and assigned by the Illinois State Board of Education.
Coaching Project Overview:
The coaching project is a 2-year process that focuses on strengths, sustainability and continuous quality improvement. Coaches utilize the Practice Based coaching Model and incorporate the principles of Coaching with Powerful Interactions to develop learning partnerships, collaboratively create goals and action plans, and engage in reflection and feedback to enhance teaching practice and improve outcomes for young children.
Feedback from Programs:
From Teacher:
"The greatest impact has been her ability to push my thinking and creativity to better my practice."
From Administrator:
"This is the most useful Professional Development tool I have used in my 15 years working in Pre-K. Each visit results in tangible improvement in our program."